REQUEST A TANK MONITOR - Enjoy even more comfort, convenience and peace of mind with automated delivery
We pride ourselves on our customer service experience, which means we're always looking for ways to make your experience better.
Our new smart propane tank monitor does just this.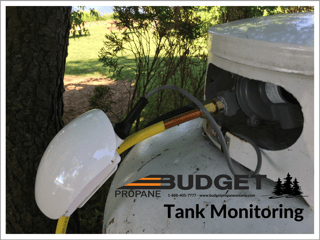 When your propane tank is equipped with a smart propane tank monitor, we will be notified as soon as a propane fill-up is needed so that we can schedule a delivery!
The monitor will also send weekly notifications to your phone, via text message or email, so that you will always know how much propane you have left in your tank.
Propane tank monitoring is an easy-to-use subscription based service.
There is no charge for installation, you will receive interval battery replacements at no additional charge and you will get your first year monitoring for FREE!
It really is as easy as 1-2-3!
Give us a call today at 1-888-405-7777 and we'll help you get started, or fill out this form and one of our sales representatives will give you a call back to schedule an installation.
Thanks for thinking of Budget Propane!